Immerse Yourself in Water Sports in Al Ain!
Get ready for an unforgettable experience at the UAE's first-ever man-made white water rafting, kayaking, wakeboarding, and surfing attraction!
Prepare for an adrenaline-fueled adventure as you navigate through crashing waves during the white-water rafting experience at the base of Al Ain's Jebel Hafeet. Whether you're a beginner or a seasoned water sports enthusiast, the three different levels of white-water rapids ensure plenty of thrills and excitement.
This exhilarating activity is perfect for those seeking adventure and fun. Each raft trip includes a professional guide, a briefing on the essentials, and all necessary safety equipment. With everything taken care of, all that's left is to dive in and make a splash like never before!
TERMS & CONDITION
Captivating France: A Visual Symphony of Iconic Landmarks and Hidden Gem!
Note:
• Package is valid for minimum 02 Adults. • Quotation is based on 01 Double Room Bed & Breakfast Basis. • Rates are subject to availability of rooms and can be change without notice. • Surcharge will apply on Events, Exhibitions, and festivals etc. • 50% Payment will be at the time of booking. • Remaining balance should be paid 10 days before departure. • Surcharge of 50% will be incurred for pick-up and drop off between 23:00hrs – 07:00hrs Please don't hesitate to contact us should you required further assistance.
Experience the epitome of indulgence with the Infinite Indulgence package at the Grand Palladium Bavaro Suites Resort & Spa, where you'll find all-inclusive perks that make you feel right at home. Take advantage of a wide range of amenities such as complimentary watersports, access to the fitness center, unforgettable dining experiences, and unlimited alcoholic beverages. The guestrooms at the resort are designed to offer spacious comfort and breathtaking views of the sea and surrounding gardens. You can choose between a king-size bed or two double beds, and if you're traveling with little ones, a family kit is available. This kit includes specially designed amenities for kids and babies, including kid-size furnishings, sippy cups, and baby food options.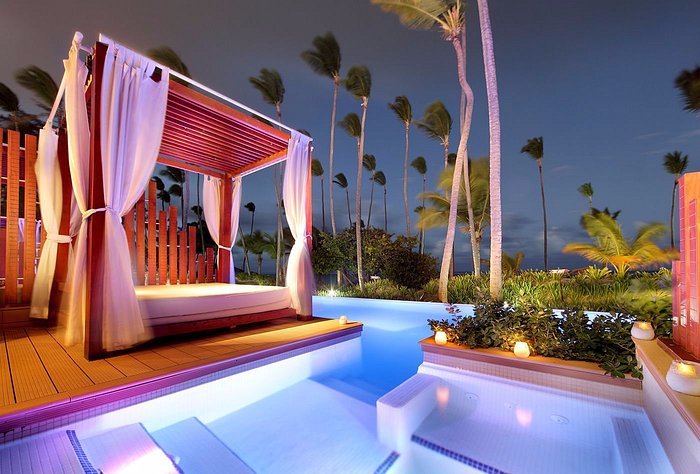 How to Win? Travel advisors have an exciting opportunity to win a three-night stay at the family-friendly Grand Palladium Bavaro Suites Resort & Spa by participating in a brief quiz. By answering all the questions correctly, advisors will earn a chance to win this amazing prize. To be eligible for the contest, the quiz must be completed before July 31. Don't miss out on this incredible opportunity!